Steven Holley – Vice Chancellor for Administration and Finance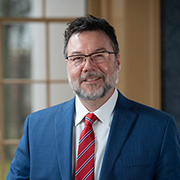 Steven Holley became the University of Mississippi's vice chancellor for administration and finance in February 2021. In this role, Holley serves as the university's chief financial officer and is responsible for financial, facilities, business and administrative activities of the university. Holley participates in strategic planning and problem solving, policy formulation and budgetary decisions, as well as offers financial counsel and guidance on the implications of institutional decisions. He also has responsibilities related to endowment and IT.
Holley oversees a wide portfolio of areas reporting within the Administration and Finance division, including Accounting, Airport, Budget, Bursar, Contractual Services, Controller, Facilities Management, Facilities Planning, Golf Course, Human Resources, Landscape Services, Parking and Transportation, Procurement Services, and Sustainability.
A global finance and operations executive, Holley has 25 years of experience spanning positions in large corporate organizations and higher education institutions. Before joining the university, Holley served as vice president for finance and administration and treasurer at the Claremont Colleges, a consortium of seven private institutions. He served previously as vice president and chief business officer at Abilene Christian University.
Earlier in his career, Holley served as chief financial officer and treasurer at Del-Nat Tire Corp. He also served in a number of positions at Federal Express, Coca-Cola Enterprises and Price Waterhouse LLP.
A native of Wheeler, Mississippi, and a first-generation college student, Holley earned an associate's degree in applied sciences in 1989 at Northeast Mississippi Community College. He earned a bachelor's degree in accountancy in 1990 and a Master of Accountancy in 1992 at the University of Mississippi. He is a certified public accountant and is involved in many professional organizations, including the National Association of College and University Business Officers and the Council for Christian Colleges & Universities.
His wife, Leigh, is also a Prentiss County native and an Ole Miss graduate. They have four sons: Alex, Jared, Matthew and Harrison.